The mission of EastWest Reiki Association is to provide training and support for individuals using Reiki as a tool for self-care and for the care of others.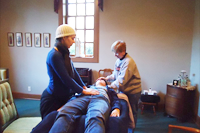 Reiki Share 

Reiki I Class at NIH 
Click on the links below to learn more about the programs being offered:
Outreach and Volunteer Opportunities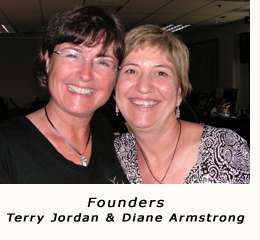 EastWest Reiki Association was co-created by Terry Jordan and Diane Armstrong, both Reiki Masters with a passion to share their enjoyment and love of Reiki as a healing art.
Terry and Diane live on opposite ends of North America, in Oregon and Maryland. The name EastWest Reiki Association captures this unique partnership on many levels.
It embraces the geographical distance between the founders while honoring the philosophical realm in that Reiki was discovered in the East by Mikao Usui and brought to the West by Mrs. Hawayo Takata.
The name brings together East and West, geographically, philosophically and spiritually not only in the United States, but also on our planet.
The logo, envisioned by Terry, was designed by Melanie Davis. It uses the yin yang symbol of balance with a butterfly to represent the personal, transformational healing power of Reiki. The tail of the butterfly twists gently over itself as a mobius, the symbol of infinity and ongoing evolution. The light green color inside the butterfly serves as a reminder that we all radiate light from our heart center.