Reiki II Haiku
Come into our space
Universal Love is here
Flowing through our hands
~Lisa, Reiki II practitioner
Reiki II Certification Class
Prerequisites: Reiki I (any teacher or lineage) and a minimum three weeks of daily self-practice
Fee: $300
($375 for private one-on-one teaching)
Audit Fee: $150 – Please call to discuss this option. Reiki II Certification must be presented.
Each level of Reiki contains a gift. The gift of Reiki II is learning how to provide distance healing to others without touch. It also includes sending Reiki through time and space in our own lives, for example to a traumatic incident or to our ancestors.
With the gift of Reiki II you will be able to:
Offer Reiki to family or friends living far from you
Connect more deeply with those you serve
Enhance your physical surroundings
Pre-pave your day for balance and clarity
Heal the past
Elements covered in class include:
Reiki II symbols and how to use them
Distance healing techniques for family, friends and world situations
Reiki ethics and etiquette
Deepening intuition
Hands-on practice using the symbols and intuition in distance healing
Reiki lineage
Reiki II manual
Reiki II Certificate of Completion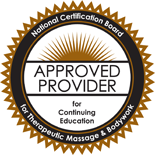 451209-10
EastWest Reiki Association LLC is approved by the National Certification Board for Therapeutic Massage &Bodywork (NCBTMB) as a continuing education Approved Provider.
 Class Details provided upon registration. For more information, contact Terry Jordan, 971-409-7635